RockFit
RockFit – HIIT Class at CrossFit The Rock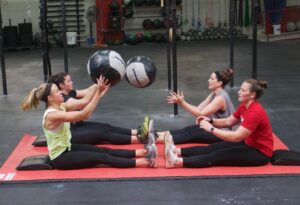 Brand new, 60 minute, Fast paced, High Intensity Interval Training class at CrossFit the Rock.
Here you will do all the movements in CrossFit minus the barbell. This program serves as a great introduction to CrossFit workouts without overly complex movements or heavy weight training.
Classes meet every Wednesday's and Fridays @10:45 – 11:45am.
Saturday @ 11:00 – 12:00pm
Improve your overall health and wellness through our unique blend of strength and conditioning. This class will improve your cardiovascular endurance, build lean muscle & increase core stability and strength.
Come to a Free Trial of our calorie burning class that utilizes circuit training, basic CrossFit functional movements, body weight resistance and mobility.
RockFit is constantly varied, fast paced, fun & energetic fitness at its best!
All levels welcome!
New members do not need to go through our Fundamentals  program in order to participate in this class – you can just jump right in!
Contact Tom Walsh ([email protected]) to reserve your Free Trial class.